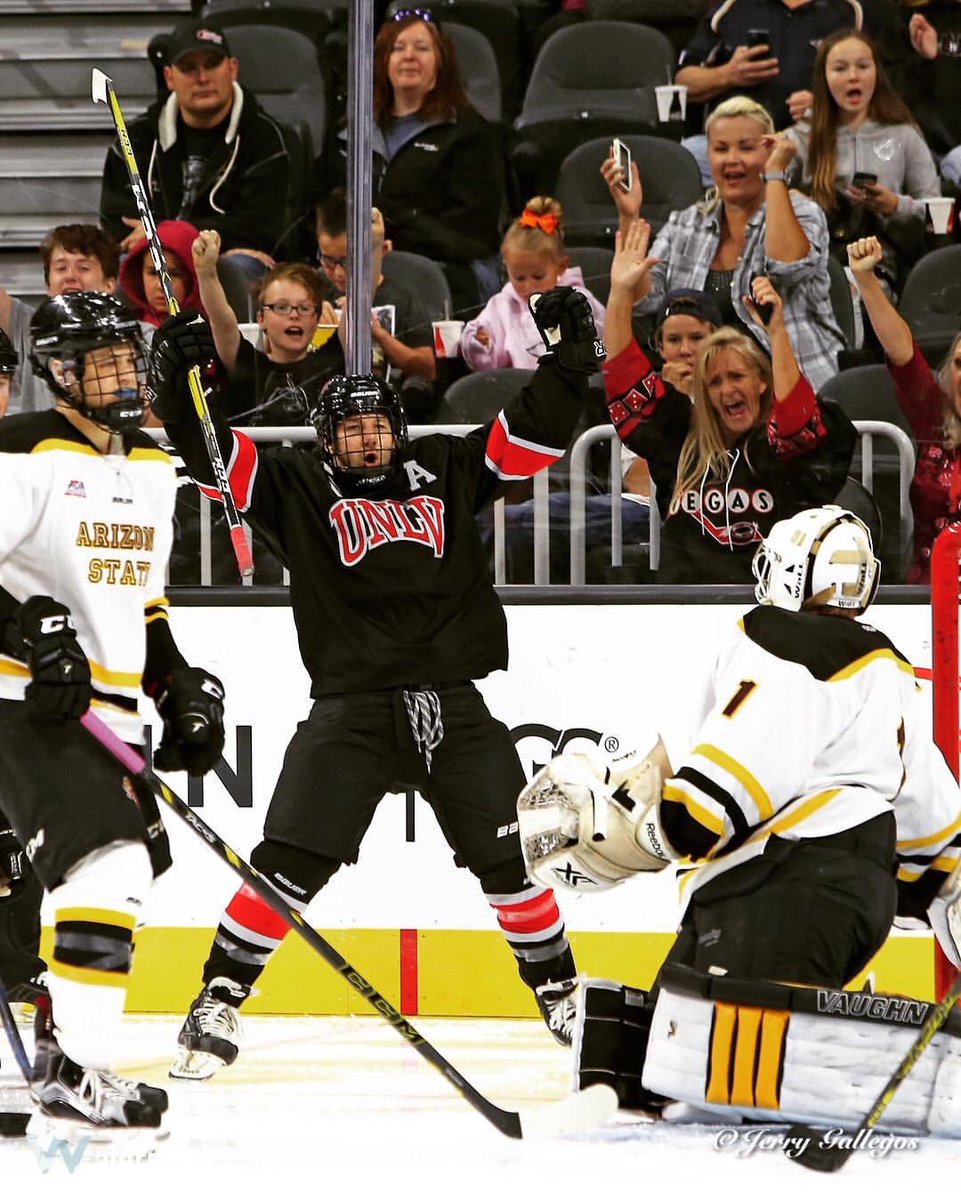 Cody Williams of UNLV scores – celebrates
=================================================
UNLV Coach Anthony Greener: "Every Team Will Be Fighting for Its Life."
Wednesday, February 22, 2017
By Lee Samuels
For UNLV the real season gets underway at the ACHA D2 Western Regionals in Greeley, Colorado on Friday. UNLV is the top seed but Rebels head coach Anthony Greener isn't sure who his team will play in their first game.
The ACHA D2 folks say UNLV will take on the lowest seed and those teams include UCLA, Metro State Denver, Cal State Northridge and San Diego State who play in games on Thursday.

If you win a game, you move on.
If you lose, the season is over.
"We are the Number 1 seed but we don't know who we will play yet," said UNLV head coach Anthony Greener. "So our main concern going in is to worry about us and our systems."
The top UNLV line will remain the same – Tristan Mayer, Cody Williams and Viktor Brask.
Starting goalie?
Coach Greener has three to pick from – and all are on the elite level – Terry Martin, Erik Eidissen, Alex Feese.
"It's been a battle among our goalies and whoever plays the best in practice will get the start on Friday," Greener said.
He paused and added…."every team in the Western Regionals will be fighting for its life. We are looking at teams who want to go to war. We know what we're going into this weekend."
For UNLV this weekend is an opportunity to get their Ultimate Glory.

The top two teams in the Western Regionals will advance to the U.S. Nationals.
====
UNLV is a best-ever 28-7-0. But who did they lose to? Six of those seven losses were on the road and two of those were against a higher level D1 team.
Take a look:
2-3 to Weber State at SoBe Ice Arena
5-6 to D1 Arizona
3-6 to D1 Arizona
0-1 to Boise State
2-4 to Denver
3-6 to NAU
5-6 to NAU
=======
UNLV's top goal scorer – Cody Williams 33 goals, Dion Antisin 28, Jake Saxe 28, Viktor Brask 25, Tristan Mayer 21, Niklas Giers 14, Steven Scamorza 13, Kory Grahl 7, Trevor Ruiz 7, Ethan Montoya 6, Bas Assaf 4, Connor Hetzel 4
=======
UNLV Goalies
Erik Eidissen 12-5-0, 2.30 gaa, 91.9% save percentage
Alex Feese 8-0-0, 2.23 gaa, 91.3% save percentage
Terry Martin 8-2-0, 2.20 gaa, 92.1% save percentage