Close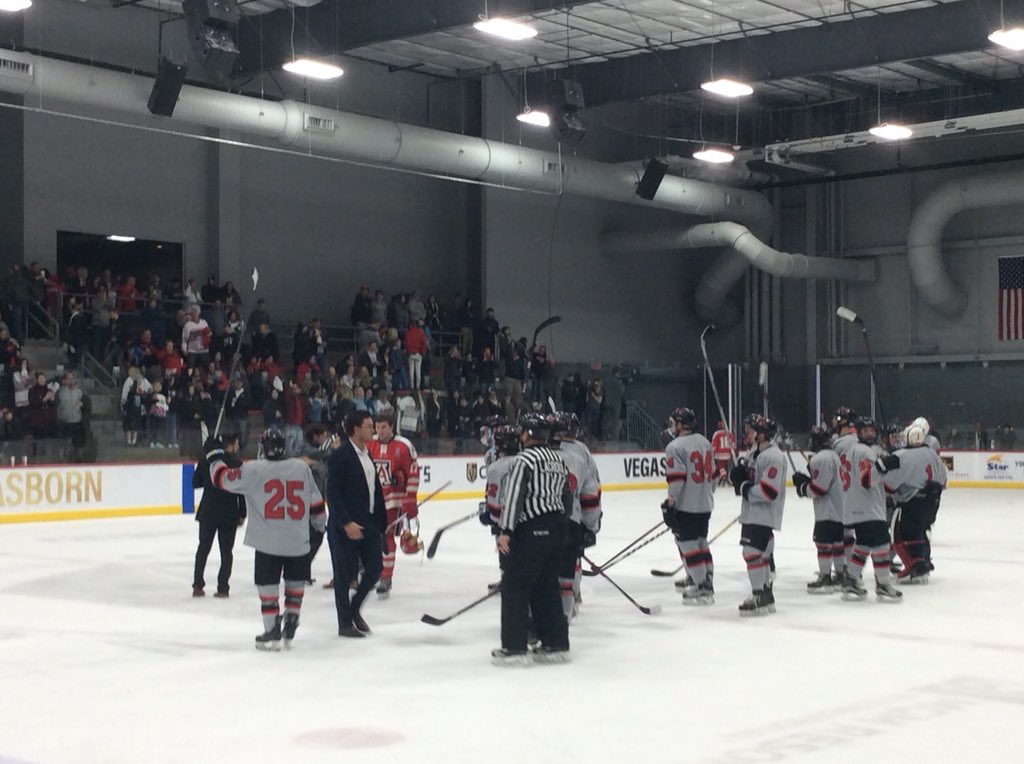 It's all over – UNLV wraps up regular season with 3-1 win over Arizona
By Lee Samuels
Las Vegas – Before a massive sold out crowd – three deep at the north rinkboards – the UNLV Rebels got an awesome effort from star goalie Ben Giesbrecht and an empty-net goal from Zach Lawson to fight off and beat a charged up University of Arizona team 3-1 in the final regular season game for both teams at City National Arena on a brutally cold winter Saturday night.
And both teams – UNLV and Arizona – are now preparing to go to the ACHA D1 Nationals in Columbus, Ohio.
Giesbrecht was in the Rebels net for the first time in two months.
"Got a foot stepped on in the locker room before a game back in January," Ben said. "It took all of this time to get better and it was great to be back in goal again. I thought this was our best team effort of the year. We fought off and beat a great team in Arizona."
The game had a hard wicked finish with UNLV holding a one goal lead very late in the game.
UNLV goal scorers were Viktor Brask, Cody Williams plus an empty netter from Lawson with the clock ticking down very late in the third period.
The big hometown crowd stood and roared when Lawson scored to give UNLV a two-goal lead in the final moments of the game.
Cody scored his goal earlier on a drive to the left side of the Arizona net finished off with a five-hole low liner.
"I really believe we will win the National Championship," Cody said. "We have what it takes to win it all."
Rebels head coach Anthony Greener said "we are ready – and prepared – to go to the Nationals. Cannot wait to get there."
UNLV finished its debut season in ACHA D1 with a record of 22-9-0 including a 14-3-0 record on home ice at City National Arena. The Rebels beat #1 ranked Minot during this season.
The Nationals are in Columbus, Ohio. UNLV is scheduled to take on Drexel in a first round game on March 8.
From the Blue Line – The game was intense, fiery and had a bigtime feel to it. Officials Rocco, Tannerburg, Lacroix and one more were excellent…UNLV goal scorer Cody Williams grew up in Las Vegas. His last tier team in town was the AA Las Vegas Ice Cats 16u. Cody said his fearless fiery drives straight to the net developed when he played two seasons in the AAA Russell Stover 18u program in Kansas City…..UNLV goalie Ben Giesbrecht said Rebels head coach Anthony Greener "stayed in touch with me constantly during the recruiting process" and is one of the primary reasons he is with the program now. Giesbrecht is an awesome goalie, one of the best ever in the Rebels program – and there have been great goalies here including Terry Martin from Canada….When you look at the makeup of the Rebels crowds it ranges from the very young, teenagers, college students, parents and older fans who know so much about the game and want to see great intense hockey at a high level – and this is unquestionably – the highest level UNLV has ever been riding on.
===================================
Saturday, February 24, 2018
By Lee Samuels
Las Vegas – This is it – the final home game for the UNLV Rebels who close out their regular season against University of Arizona tonight – Saturday – at the City National Arena. UNLV is 21-9-0 in its debut season in ACHA D1.
Hometown players from Las Vegas and Henderson, Nevada include Joseph Kaszupski, Mitchell Province and Cody Williams.
After this game UNLV and Arizona will compete in the 20-team ACHA D1 Nationals in Columbus, Ohio.
Game time this evening is 6 pm
===
Friday night ACHA D1 Scores
Minot 3, Jamestown 1 
Iowa State 6, Robert Morris, Illinois 3