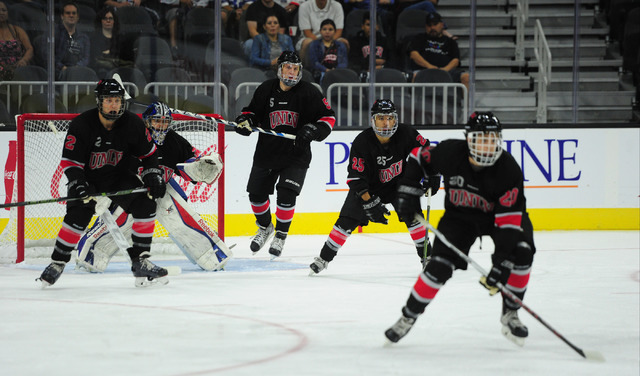 UNLV's defense in action for incoming firepower…..
=============================
Wednesday, January 16, 2019
By Lee Samuels
See what going 3-0-1 against Arizona teams will do…the UNLV Rebels today were rewarded with a best-ever #8 spot in the ACHA D1 National Rankings released today. The Rebels, 14-4-1, were previously ranked #13. The University of Arizona went down two spots to #9. UNLV is coached by Anthony Greener.
Rebels GM Zee Khan said "as a D1 team this is the highest we have been. We have previously been ranked as high as #1 in D2 in the regional rankings, but at that level it is more of a regional honor. At the D1 level it's an all encompassed ranking for all 61 teams – and the D1 Top 20 ranked teams qualify for the National Tournament.
"To be ranked in the Top 10 makes us part of the elite in the ACHA D1, which is where we as a staff and team feel we should be all of the time."
This weekend UNLV takes on invading Utah University in a two-game home ice series beginning Friday night at the City National Arena.
Here are the ACHA D1 Top 10 ranked teams
#1 – Lindenwood 16-0-0
#2 – Michigan-Dearborn 11-1-1
#3 – Adrian 17-1-0
#4 – Ohio 12-3-3
#5 – Iowa State 12-4-0
#6 – Liberty 16-3-1
#7 – Davenport 18-4-1
#8 – UNLV Rebels 14-4-1
#9 – Arizona 14-4-0
#10 – Central Oklahoma  12-6-4