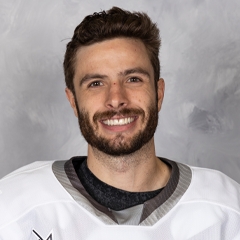 The dynamite Gage Quinney of Las Vegas and the AHL Chicago Wolves
*Authors Note: I want to personally thank Ms Kat Craner, Ms Christina Oka, and Ms Shannon Walker for mediating this interview in my physical absence. Due to our military move to South Carolina, I am now in the in-between state of leaving Las Vegas and setting up in South Carolina. These ladies sat down with Gage Quinney to ask the questions I had prepared and recorded the interview on my behalf. I am so grateful for their help!
 By Bethany Drysdale
            Vegas born, Gage Quinney has been making a name for himself throughout minor league hockey, with the hopes of being part of his hometown Golden Knights in the future. The 24 year old Quinney recorded 43 points last season with the AHL Chicago Wolves, playing in the Calder Cup finals. Previously with the Pittsburgh Penguins minor league affiliates: AHL Wilkes-Barre/Scranton Penguins and ECHL Wheeling Nailers, the 5'11" 200 pound center-man had 33 points with the Penguins and 44 points with the Nailers, putting him in excellent position to compete for a roster spot for the Golden Knights. His strong work ethic and humble attitude are what makes him a hometown hero to the kids watching him at City National.
            When asked how old he was when he started playing hockey, Gage replied, "I think I was either 3 or 4, and I started in Germany. My dad played overseas and I think that's when I started." Hockey is a sport that his dad played, so as a child watching, he just grew into it and loved it early. What keeps him playing is the fact that he loves it. You can see him having a blast every time he goes on the ice. There are players, like Gage, who never lose that sense of passion they had as child, learning the sport. Like many players, he credits his parents for his love of the game, encouraging his passion, but coaches and teammates definitely play a part in building a successful player, too. When he is home, Gage is out in the community that helped him get where he is today. Kat asked him about his work on Fridays with the Spectrum on Ice. "Is that something you enjoy doing?" she asked. Gage replied, "Yah, I enjoy it a lot. Any community work is nice. Like, me, growing up, I had a lot of people help me get me where I am. I feel like I owe back. I try to help out as much as I can."
            His favorite hockey memories are recently playing in the Calder Cup as well as his past playing in the Memorial Cup. "Last year, going to the Calder Cup Finals is a great memory, but, I think, winning the Western Hockey League my 19-year-old year, in Juniors, going to the Memorial Cup and stuff was a lot of fun with the Kelowna Rockets." It was after this moment, Quinney felt a defining moment in his future hockey as a career. "I think after the Memorial Cup, because I had a good Memorial Cup, I thought, 'This could actually be something; a future for me. I think that was it.'" Then playing this past June for the Calder Cup in Chicago, the reality of what doors can be opened in hockey have begun to motivate him even more. "That was a LOT of fun. We were a younger team, so it was pretty cool to see how far we could go, and I think everyone really enjoyed it." The motivation for the upcoming season, as well as the expectations, only increase with talented teams. "You always hate to lose. I think it's just any sport person's mentality is. It's so competitive, and when you lose, it's, like, the worst thing, and, it motivates you for next year."
==
Bethany Drysdale is a star reporter who was voted #1 best hockey writer on Vegas Hockey.