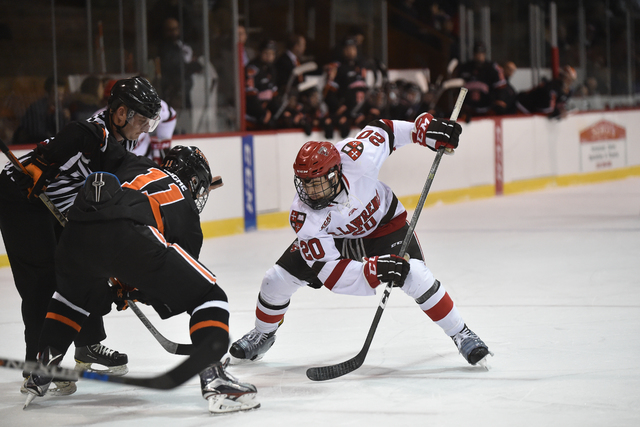 Men's Hockey Announces 2017-18 Captains
==============================
The St. Lawrence men's hockey team has selected its captains for the 2017-18 season, naming Joe Sullivan of the next Saints captain and Ryan Lough, Nolan Gluchowski and Michael Laidley as assistants. Each of the four players selected to wear a letter next season will be first-time captains.
"Our leadership group are men of sound character and they each bring elements of their personalities that will help our staff and our program max out our potential," head coach Mark Morris said. "The expectation for our leaders is to create a high standard for team members and to create a trusting, caring environment."
Sullivan, who recorded career highs in goals, assists and points last season, and Lough were two of just a handful of players to play in all 34 games for the Saints in 2016-17. Gluchowski also set career highs in both assists and points, while Laidley was on pace to do so before suffering an injury early in the season.
Sullivan, who played as the Saints top-line center all season long and finished third on the team in scoring, made an immediate impact on first-year coach Mark Morris for his work ethic and determination both on and off the ice.
"Joe Sullivan is a heart and soul type of player," Morris said of the Las Vegas, Nevada, native. "His compete level and work habits are contagious and he gives his all every shift. He has earned the respect of his peers, the coaching staff and those closely connected to our Saints Hockey program. I am quite certain his example will serve our team well moving forward. He will be an excellent captain."